Locking eyes across a crowded room may be a thing of the past.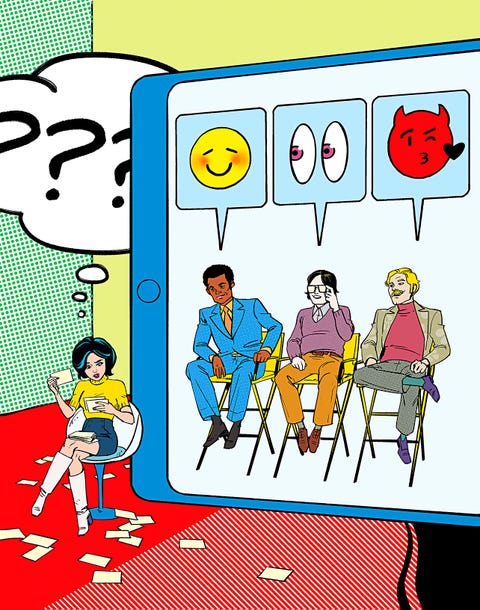 Once upon a time, internet dating was a vaguely embarrassing pursuit. Who wanted to be one of those lonely hearts trolling the singles bars of cyberspace? These days, however, the New York Times Vows section—famous for its meet-cute stories of the blissfully betrothed—is full of couples who trumpet the love they found through Ok Cupid or Tinder. Today an estimated one-third of marrying couples in the U.S. met online, and as many as 15 percent of American adults have used dating sites or apps. (Even Martha Stewart, who in 2013 declared in her Match profile that she was looking for a "lover of animals, grandchildren, and the outdoors." Martha, have you considered Raya, the private celebrity dating app?)
Locking eyes across a crowded room might make for a lovely song lyric, but when it comes to romantic potential, nothing rivals technology, according to Helen Fisher, PhD, a biological anthropologist, senior research fellow at the Kinsey Institute, and chief scientific adviser to Match. "It's more possible to find someone now than at probably any other time in history, particularly if you're older. You don't have to stand in a bar and wait for the right one to come along," says Fisher. "And we've found that people looking for a sweetheart on the internet are more likely to have full-time employment and higher education, and to be seeking a long-term partner. Online dating is the way to go—you just have to learn to work the system."
So take heart: Whether you're a first-time player or a seasoned contestant who wants to up her game, our troubleshooting guide is here to help, with advice from both experts and survivors on how to search strategically, handle setbacks gracefully, maintain sanity, and enjoy the ride—with minimal agony and maximum ecstasy. Your eligible bachelor awaits!
---
How To…Get Better at Online Dating
For guidance, O Style Features Director Holly Carter turned to a pro.
Seven years ago, I signed up for Match.com, but I never took it seriously. For me, online dating is like exercise: At the end of the day, it's easier to watch TV. But at 44, I started to realize that if I want a companion before Social Security kicks in, I have to leave the couch. I needed a trainer, someone who could help me focus—only instead of getting defined abs, I'd get a mate (hopefully, with defined abs). Enter Damona Hoffman, dating coach and host of the Dates & Mates podcast, who promises rapid results if I just follow a few tough-love rules….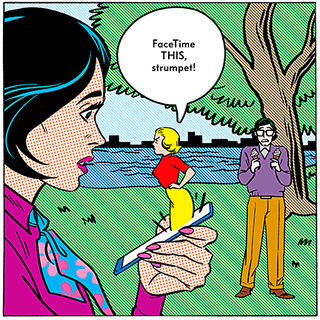 TRUE CONFESSIONS:
"I got a surprise phone call from their wife."

Married daters are more common than we'd like to think, says dating coach Laurel House, host of the podcast The Man Whisperer. Her tip: "A little pre-date due diligence is smart. Do a Google image search with his photo to see if it links to a Facebook or Instagram account." This can also protect you from scam artists—be wary if the photos seem too perfect or his language is considerably more fluent in his profile than in his messages. And if he tells you he lost his wallet and needs a loan? Run.
Treat it like it's your job.
The first thing Hoffman tells me: "This takes time and attention. I want you to be on the site at least three hours a week." Uh-oh. That's three episodes of The Sinner.
Put style in your profile.
Kindly, Hoffman refrains from mocking my unassisted self-description: "I'm a loving person who likes trying new restaurants and a sweet treat before bed." (I never realized how dirty that sounds.) She asks about my hobbies, how my coworkers would fill in the "most likely to" blank. She then revises my profile, noting that I love cooking vegetables I grow in my garden, that Dave Chappelle has my kind of humor, that "meeting new people excites me: I could spend half an hour talking to the cashiers at Trader Joe's."
Tip: Whenever I meet someone for the first time, I drop a pin and let a friend know where I am.
Three-quarters of the profile should be about me, and the other quarter about what I want in a mate, says Hoffman, who tells me to be specific here, too: The goal isn't to attract everyone, it's to find The One. We come up with "My ideal match is someone who loves family, has an opinion on current events, and can hold his own at a cocktail party on a Friday night, then chill with me on a lazy Saturday." The final touch is a headline that sums up my approach to life, like a personal slogan. Hoffman suggests "Family. Kindness. Friends. Faith. That's what I value most." Hmm. I'm spiritual and go to church, but "faith" sounds heavy. I swap it for "fun."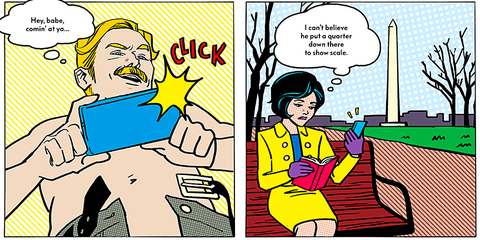 TRUE CONFESSIONS:
"He sent a really personal photo."

Why does a man have to text a pic of his penis when "Hello" would suffice? One possible explanation, offered by Justin Lehmiller, PhD, research fellow at the Kinsey Institute and author of Tell Me What You Want, is that men tend to overestimate the sexual interest of women they casually encounter, so they may assume the "gift" will be welcome. And if they occasionally get a positive response, they may figure it can't hurt to try again. "In psychology research, we call this a 'variable reinforcement schedule,'" Lehmiller says. "It's like a slot machine—the majority of the time, you pull the lever and nothing happens, but every once in a while, there's a payoff." A deflating solution from one online dater: "Draw a face on it and send it back to him."
Work your angles.
Hoffman looks at my photos and nixes the corporate headshot and mirror selfie. "You want to look natural and inviting. Mirror selfies often give off an air of vanity." She says the best profile shots feature the three Cs: color (vibrant shades, especially red, grab attention), context (pics that involve your hobbies, like travel or, say, clog dancing), and character (something quirky or funny, "like you in your Halloween costume").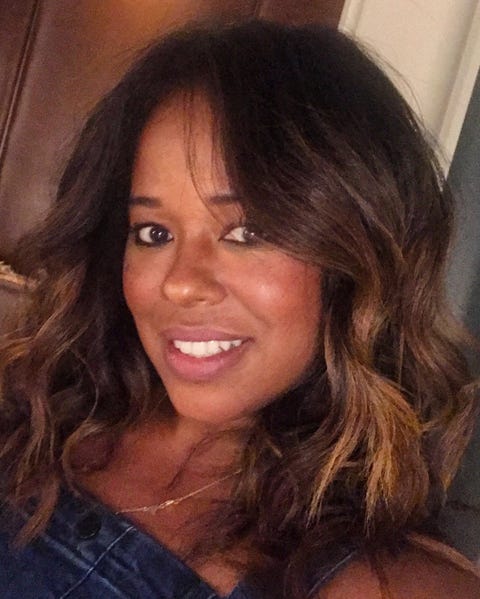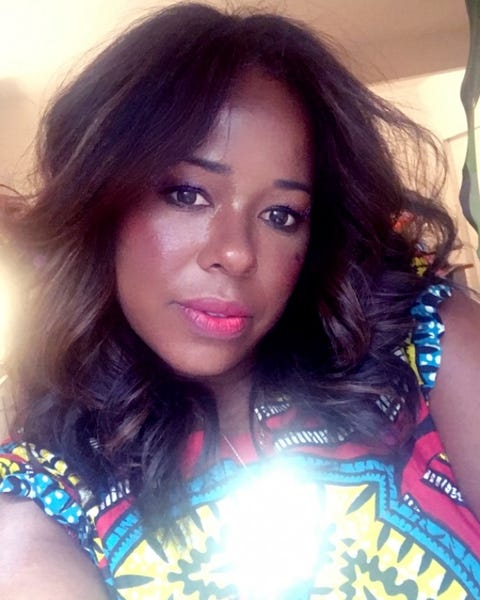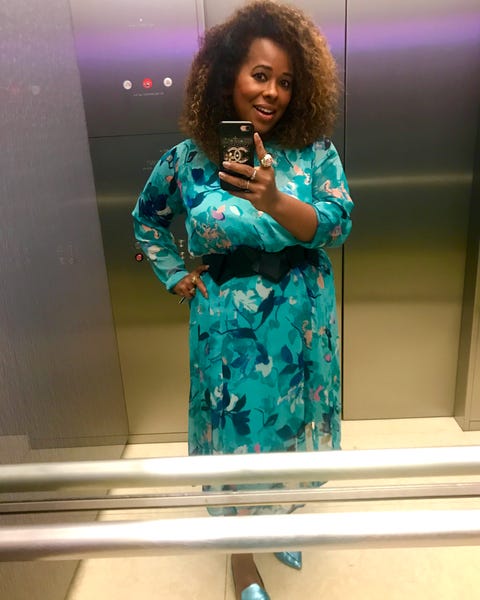 For the main photo, we do a close headshot where I'm smiling into the camera. For the others, we do one of me outside in a green dress, one where I'm wearing something sparkly, and another where I'm standing on an escalator. This doesn't reveal much about me besides my aversion to stairs, but it's a full body shot, which Hoffman recommends. Agreed—as a curvy girl, I want to avoid first-date surprises.
I skip quirky. I haven't worn a Halloween costume since I went as a pack of grape Hubba Bubba in sixth grade.

TRUE CONFESSIONS:

"The photo was dreamy. The reality is…scary."

If they're older/paunchier/have more neck bolts than he does in the photos, choose compassion, says New York dating coach Connell Barrett. "He probably lied because it's a sore spot." Just have one polite drink. Who knows? You may wind up charmed—and it's the human thing to do.